WISDOM'S KISS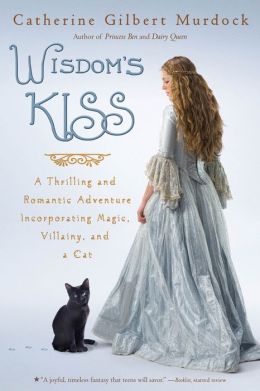 BY CATHERINE GILBERT MURDOCK
book shows the lives of everybody on an adventure connected to the main characters- Lady Fortitude of Bacio (Trudy) and Princess Wisdom of Montagne (Dizzy).
Trudy is an orphaned farm girl who is gifted with a wonderful gift- she can see the future! This sight that Trudy is gifted with helps her bring her friends to safety on their adventure.
Dizzy is a confused princess that doesn't have any idea what she is doing. Duke Roger of Farina goes to Montagne in search of the hand of Dizzy's sister, Queen Temperance, but Teddy refuses and Roger asks Dizzy, who accepts the proposal.
The main adventure is that Dizzy falls for another, but Trudy already knew him from when she was a child and hasn't seen him for 6 years.
I thought the format was confusing at first because there are letters from Temperance and Wisdom's grandmother, memoirs of a master swordsman, and encyclopedias. I got used to the format after a while but for some that might be a put-off. I liked the book, and I like fantasy and magic (and a little romance!). I give it four and a half stars.
~Ashley